Ancora William Kentridge: dopo la grande intervista di ieri, torniamo a raccontarvi la festa che l'ha visto protagonista ieri sera al Maxxi, per presentare ufficialmente una preview dell'opera Thriumphs and Laments, che l'Associazione Tevereterno ha in cantiere per il prossimo 2015 sui muraglioni del Tevere. E il pubblico accorre incuriosito: buffet a parte, c'è da capire cosa rappresenteranno questi fregi sul fiume, e come farà Kentridge a non imbrattare i muraglioni grazie all'impiego artistico di una sorta di idropulitrice.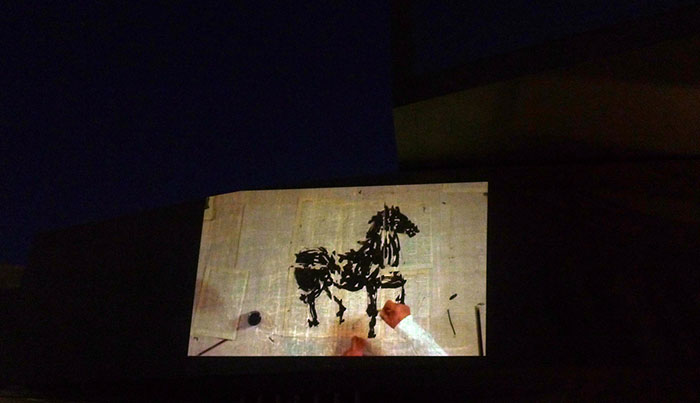 Il momento più intenso della serata? Quello in cui l'artista sudafricano svela la tecnica con cui scompone e rianima le figure che affollano le sue storie, protagonista un cavallo che disegnato a carboncino su più fogli di carta che, per un effetto che è tanto semplice quanto magico, si destruttura grazie al riposizionamento e alla sottrazione delle pagine.
E poi, la musica. Guidata da Philip Miller, guarda al repertorio popolare italiano qui interpretato da un ensemble di musicisti romani che il compositore ha riunito in un workshop, per un effetto, anche qui, che interseca commistione e destrutturazione musicale. L'atmosfera, quella di una festa, si conclude con una processione. Che fa ben sperare sul coinvolgimento partecipato che serve per portare in porto l'operazione Thriumphs and Laments da Piazza Boetti a Piazza Tevere.
Pubblicato su Artribune.com il 1 luglio 2014